illy Pick & Mix - coffee beans - 6 x 250 gram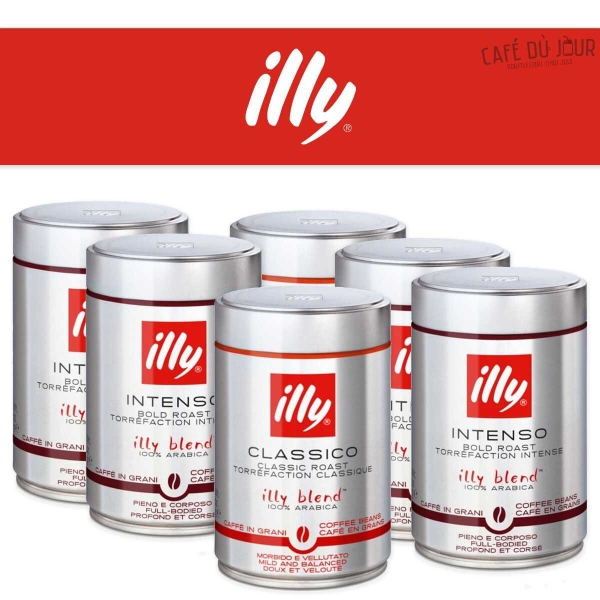 Sometimes you just prefer to decide for yourself. That is simply possible with us. Instead of one box with six identical cans, you can also order a mix of six different cans of Illy coffee beans from us. Ideal if you are not quite sure what you want and are therefore looking for a sample pack or if you like to vary. At the moment you can choose from the variants as described at the bottom of the page.
Details
You can put together this Illy coffee beans sample package yourself. You can choose from the following Illy variants:
Espresso coffee beans - CLASSIC
A perfect balance between acidity and bitterness. The result is the Illy Classico: a sweet, floral taste with hints of toasted bread, caramel and chocolate.
Espresso coffee beans - INTENSO
A little guts, full of energy and straightforward: an interplay of authentic flavors that takes a big step towards a harmonious cocoa aroma. This is beautifully expressed in notes of toasted bread and caramel.
Coffee beans Arabica Selection - Brazil
Coffee beans with a wonderfully intense scent and striking caramel notes. Grown on the high plains of southeastern Brazil.
Coffee beans Arabica Selection - Ethiopia
Arabica coffees that grow spontaneously in Ethiopia with the authentic roasting profile of Illy. A delicate aroma with notes of jasmine.
Coffee beans Arabica Selection - Guatemala
Coffee from the pristine mountains of Guatemala with a complex aroma and striking notes of chocolate, caramel and honey.
Decaf - Caffeine Free
Decaf is the original illy blend but without caffeine. Similar to the Classico.
More Information

| | |
| --- | --- |
| SKU | CDJ-ILLZESA |
| Brand | illy |
| Country of Manufacture | Italy |
| Pack size | 3 kilo |
| Coffee type | Coffeebeans |
| Intensity | Variable |
| Taste & aroma | Various |
| Country of origin | Gebrand in Triëst, Italië. Grondstof afkomstig uit diverse landen. |