Café du Jour Minibar Instant (instant coffee)
1687.95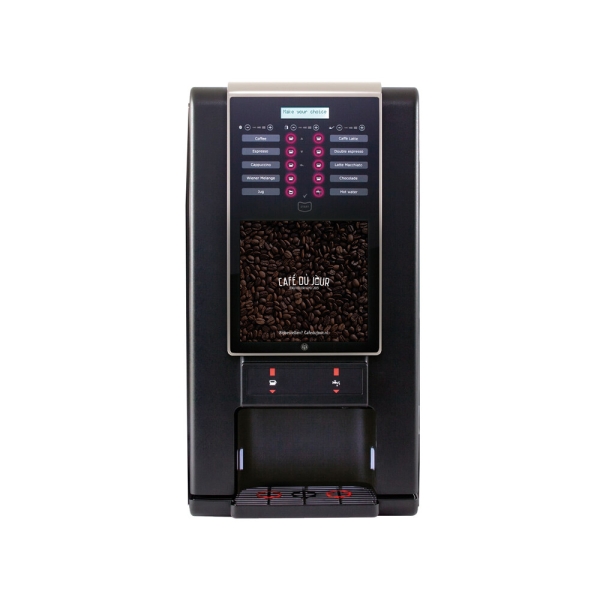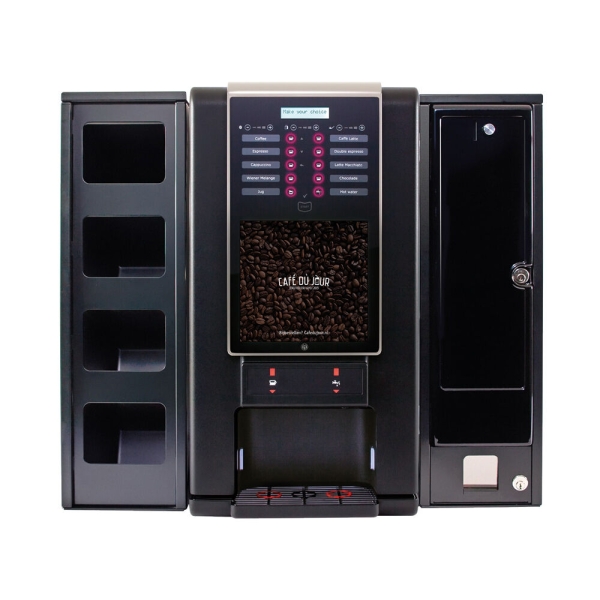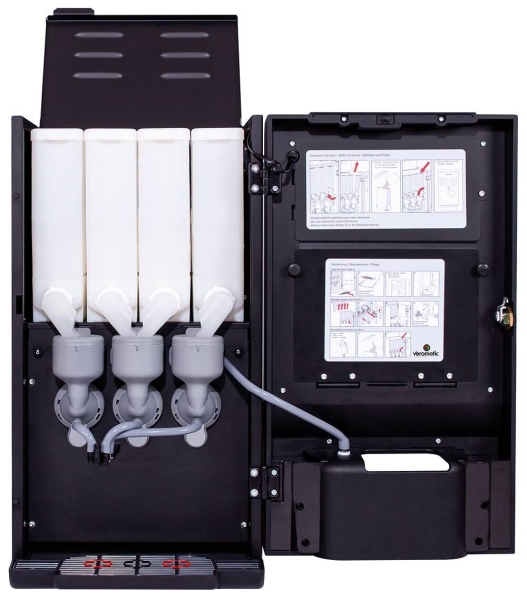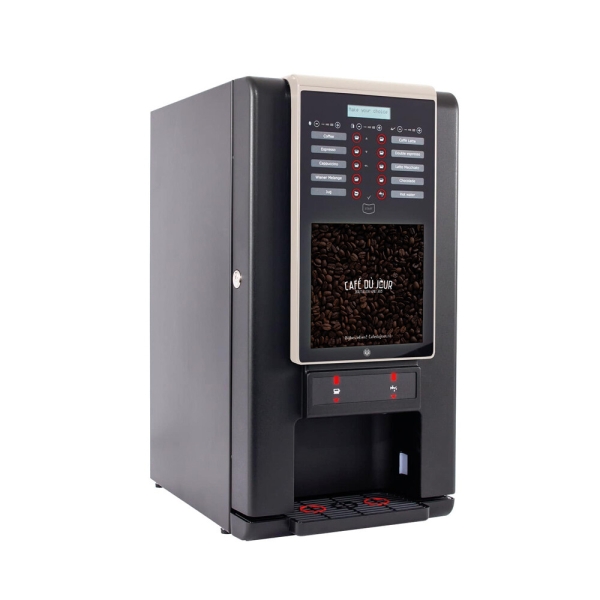 De Minibar Instant koffiemachine serveert een scala aan dranken. Van koffie, koffiespecialiteiten tot chocoladedrank. Bovendien heeft de machine een separate uitloop voor heet water. De machine is eenvoudig te bedienen. Standaard beschikt de machine over de mogelijkheid om de koffiesterkte te regelen. Ook is de machine voorzien van cup-sensoren. Gekozen instellingen zijn eenvoudig zichtbaar op de 2-regelige LCD display.
Proefplaatsing is onder bepaalde voorwaarden mogelijk. Neem contact met ons op voor een uitgebreide offerte. De Minibar kan in overleg met onderhoud- en koffiecontract geleverd worden.
Getoonde prijs is exclusief onderhoud- en koffiecontract.
Details
The Minibar is very user-friendly. The machine is easy to operate via a touchscreen, with which the strength of the selected drink can also be adjusted. There are 10 options: you can choose from 7 coffee specialties, chocolate drink, hot water and a pot of coffee (300 ml). The Minibar is equipped with cup sensors. Before the drink can be made, the sensors first register whether a cup has been placed. This prevents waste and contamination of the drip tray.
The Minibar Instant is equipped with a user-friendly service program with which the necessary maintenance work can be carried out very easily.
Satisfied staff, Care free delivery
In consultation we can offer package solutions with, for example, coffee delivery, disposable cups, sugar and cocoa or a full maintenance contract tailored to consumption.
Technical Specifications
| | |
| --- | --- |
| Type | MBI01 - Instant |
| Measurements | 94x310x461 mm (hxbxd) |
| Boiler | Gravity boiler 1.75 liter 2 kW |
| Canister 1 | Instant coffee64x250 = 2 liter |
| Canister 2 | Instant topping 64x250 = 2 liter |
| Canister 3 | Instant suiker 64x250 = 2 liter |
| Canister 4 | Instant cacoa 64x250 = 2 liter |
| Capaciteit | 120 cups per hour |
| Weight | 21 kilo |
| Contents | 4 productcanisters |
| Power | 230V, 50 Hz, 2000 W |
| Water Connection | 3/4" BSP |
| Water pressure | 0.2-0.8 MPa / 2.0-8.0 bar |
Attributes MBE01
Strength adjustable for all ingredients
2-line LCD display
Touch with many possibilities and LED lighting in response
Intuitive interaction
With telemetry capabilities
Separate hot water spout
Adjustable lighting
3 mixers
Tempered Glass Door
Double spout
Two cup sensors
Drip tray sensor
Automatic rinse program
Drip tray removable from the outside
Empty canister notification
Energy saving program
max. cup height at coffee outlet: 120 mm
max. cup height at hot water spout: 115 mm
Can function for small Cans/cup2go
More Information

| | |
| --- | --- |
| SKU | CDJ-KM-VM-MBI01 |
| Brand | Café du Jour |
| Country of Manufacture | Netherlands |
| Coffee type | Instant coffee |
| Cups per hour | 120 |
| Number of users | 10-35 |
| Coffee machine drinks | Café au lait, Café macchiato, Cappuccino, Cappuccino speciaal, Chocolademelk, Dubbele espresso, Espresso, Heet water, Koffie, Suiker, Wiener melange |
Reviews