Coffee package "Extra Espresso" - coffee beans - 3 x 1 kilo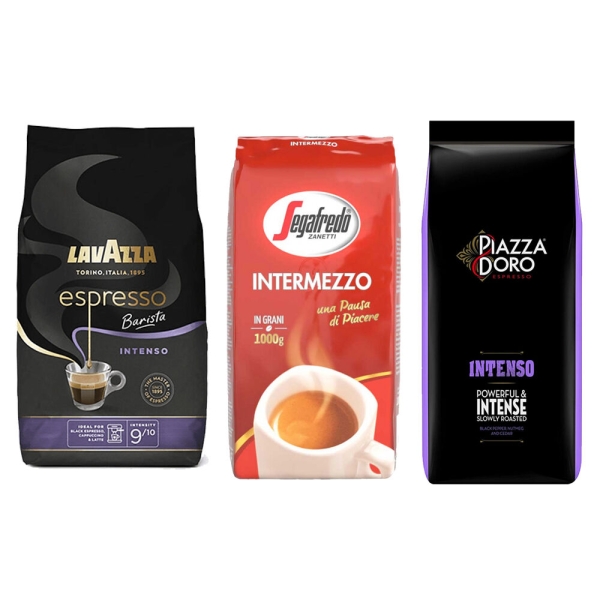 37.41 Regular Price 39.37
Delivery to Ireland within 5 days
All orders are shipped for € 6,95
Perhaps the most famous Italian energy drink in the world. The favorite of the night shift guard, the student who woke up just a little late, and the diligent office team just trying to finish that project. I am of course talking about the Espresso. A small cup of espresso will lift you through the day, provided it's the right one, of course. In this package you will find three delicious coffees that are made to make a delicious and strong espresso. So don't wait a moment, make an espresso and go!
Details
The espresso, made for everyone, for every moment of the day (although I don't recommend before going to sleep). This delicious cup of motivation and energy is drunk by millions of people every day. And in this pack, we've put together three of the absolute stars to bring you the tastiest espressos.
Lavazza Barista Intenso:

The name says it all, call on your inner barista for yourself or your colleagues, guests a strong cup of coffee with an intense body. The Barista Intenso is a real Italian classic.

Segafredo Intermezzo:

The intermezzo, perhaps the best known of this trio, is a delicious espresso that is strong and spicy with a robust character.

Piazzo d'oro Intenso:

Piazzo d'oro uses less common ingredients. This time it's hints of black pepper and nutmeg. This delicious espresso may not be very well known, but it is very tasty.
More Information

| | |
| --- | --- |
| SKU | CDJ-PKT-EXTESP3 |
| Produced in | Italy |
| Suitable for | Espresso |
| Caffeine | With caffeine |
Those who like to drink espresso should actually have tried this threesome. Three types of one variation of coffee, but all slightly different, but all really tasty. Are these flavors not for you at all? Check out the " espresso " category and find your perfect espresso!
Reviews