Café du Jour fresh loose tea - Alternative Rooibos - 4 x 100 GR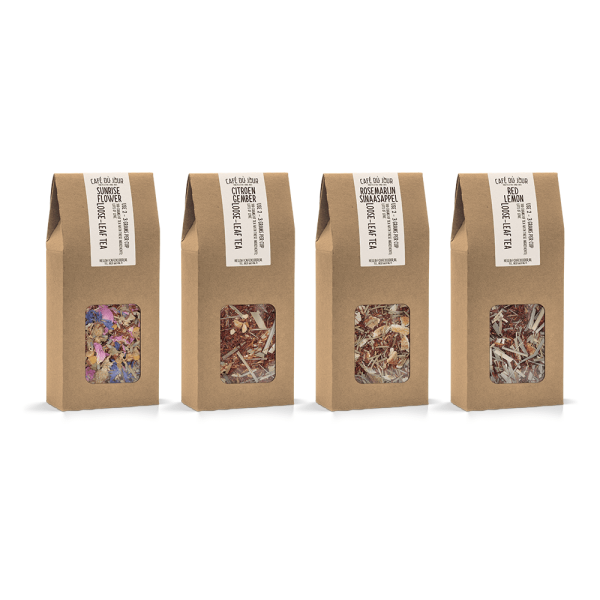 16.82 Regular Price 21.35
Delivery to Ireland within 5 days
All orders are shipped for € 6,95
This tea package is for everyone who wants something a little different, an 'Alternative' for that standard cup you drink every day. Four delicious variations based on the ultimate classic Rooibos. So take something different for once, try something new!
"Learn something new. Try something different. Convince yourself you have no limits." Brian Tracy
Details
The Alternative Rooibos package is the package for those who just want to get out of their comfort zone. Not a huge leap into the deep end, but a head under. This fresh tea package contains four variations of the simple but oh so delicious Rooibos tea. All four completely different and all have their own unique taste. So get to know the four unique flavors from the Alternative Rooibos package briefly and quickly.
Café du Jour - Lemon & Ginger: A delicious taste experience from a mixture of lemon and ginger, all with a base of a delicious Rooibos tea.
Café du Jour - Rosemary & Orange: A delicious sweet, fruity and spicy tea with the delightful aroma of rosemary. And to top it off, there are also orange slices in it!
Café du Jour - Red Lemon: The Red Lemon tea is a delicious blend of Rooibos and Lemon. Fresh, tasty and a scent to be seduced by.
Café du Jour - Sunrise Flower: A delicious Rooibos tea with the fragrant taste of the most beautiful flowers. A cup of the most beautiful spring flowers right at home!
This tea package may not be as standard as others and that is why it is called the 'Alternative' Rooibos package for a reason. Alternative means alternative, not like all others, just slightly different. And that is something you can taste for sure!
More Information

| | |
| --- | --- |
| SKU | CDJ-T-ALTROOIBOS |
| Brand | Café du Jour |
| Produced in | Netherlands |
| Caffeine | With caffeine |
Reviews