1399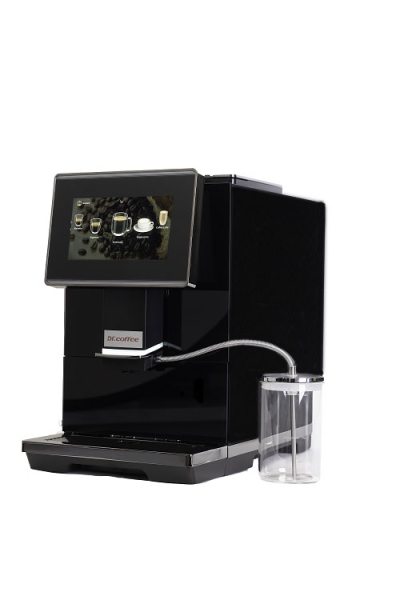 Discover the Dr Coffee - Office 9 coffee machine, the perfect combination of technology and taste! In just 30 to 35 seconds, you can prepare up to 30 delicious cups of coffee a day. This versatile machine offers a wide range of options, from espresso and lungo to latte macchiato and cappuccino. Thanks to the easy rinsing programme and high-quality brewing group, maintenance is a breeze. The 7-inch touchscreen makes it easy to choose your favourite coffee. Experience the taste of barista-quality coffee, just in your own office!
Details
The Dr Coffee - Office 9 coffee machine is more than just another coffee machine. It is a state-of-the-art device that combines craftsmanship and technology to take your office coffee experience to the next level.
You no longer have to wait for that perfect cup of coffee. With a preparation time of just 30 to 35 seconds for 120 ml of coffee, and a recommended usage of up to 30 servings per day, the Office 9 is designed to meet the coffee needs of even the most demanding coffee drinkers.
The machine is equipped with a bean canister with a capacity of 350g (about 35 doses) and a 2-litre water tank. The machine has a double spout and a maximum tap height of 80 to 170 mm. The heating system provides a hot water capacity of 12 litres per hour.
The 7-inch touchscreen display makes operating the machine very easy. Whether you like a strong espresso, a full-bodied lungo, a creamy latte macchiato or a classic cappuccino, with 15 different choices you are sure to find your favourite drink.
Despite all these features, the Office 9 is a compact machine, measuring just 265 x 465 x 430 mm, and weighing only 14 kg. With a simple rinsing programme and a waste bin that can accommodate about 15 coffee biscuits, the machine is very easy to maintain.
The insulated stainless steel boiler and ceramic grinding contribute to the machine's durability and efficiency. Moreover, the machine is equipped with a milk pump that delivers consistent milk foam quality, just like a professional barista.
More Information

| | |
| --- | --- |
| SKU | CDJ-KM-VM-DRCF9 |
| Brand | Dr.Coffee |
| Produced in | Netherlands |
| Cups per day | 50 |
| Number of users | 1-5 |
| Coffee machine drinks | Café au lait, Café macchiato, Cappuccino, Cappuccino speciaal, Chocolademelk, Dubbele espresso, Espresso, Heet water, Koffie, Suiker, Wiener melange |
Specifications:
Recommended use p/day: Up to 30 drinks
Preparation time (120 ml): 30 - 35 seconds
Double spout
Max. tap height: 80 - 170 mm
Hot water capacity: 12 litres p/hour
Dimensions: W x D x H - 265 x 465 x 430 mm
Bean hopper: 1 hopper of 350 g (approx. 35 doses)
Waste bin: approx. 15 biscuits
Water tank: 2 litres
Connected load: 230 Volt / 50-60 Hz / 1450 Watt
Rinsing programme: simple rinsing programme
Weight: 14 Kg
Options: 15 choices: including Espresso, Double Espresso, Lungo, Latte Macchiato, Cappuccino, Café au Lait, Hot water.
Reviews