Lavazza Espresso Barista Intenso 1 kilo coffee beans

15.95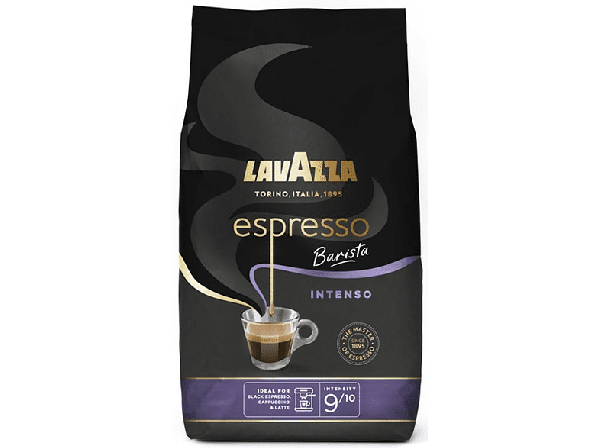 For 8 pieces
15,47
Incl. VAT.
Or one for 15.95
Choose the number of pieces:
4 pieces

8 pieces

16 pieces

32 pieces

All prices mentioned in this block include VAT.

Espresso Barista is the perfect result of Lavazza's expertise in making superior-quality coffee that will make you feel like a barista in your own home. A selection of delicious blends, mildly roasted , to enjoy the aroma and creamy texture of a true Italian espresso. A full and intense body with 9/10 intensity.

Ideal for a black espresso, cappuccino or latte.
Details
The Lavazza Espresso Barista Intenso Coffee Beans, the perfect choice for coffee lovers looking for an intense and full flavour profile. With these premium coffee beans, you can enjoy an authentic Italian espresso experience right in your own home.
Lavazza Espresso Barista Intenso Coffee Beans are carefully selected and blended from the best coffee beans from around the world. These beans come from sustainable sources and are passionately roasted using the traditional Italian method. The result is a coffee with a deep, rich flavour and powerful aroma.
With every sip of these coffee beans, you experience a perfectly balanced blend of dark chocolate, roasted nuts and subtle hints of spices. The intense flavour lingers for a long time, making every cup a satisfying experience. Whether you want to enhance your morning routine or relax after a long day, Lavazza Espresso Barista Intenso Coffee Beans offer the ideal kick to start or end your day.
Suitable for all coffee machines, these coffee beans can be used to prepare different coffee drinks, such as espresso, cappuccino, latte and more. With their dark roast, they are specially designed to produce the perfect crema, which adds a delicious texture and enticing aroma to your cup of coffee.
With the Lavazza Espresso Barista Intenso Coffee Beans, you not only bring a premium coffee product into your home, but also support sustainable coffee production. Lavazza is committed to preserving the environment and works with coffee farmers to promote fair trade practices.
Immerse yourself in the rich flavour and aroma of Lavazza Espresso Barista Intenso Coffee Beans and enjoy an authentic coffee experience that will tantalise your taste buds and invigorate your senses. Order a kilo of these premium coffee beans today and be surprised by Lavazza's unparalleled quality and taste.
More Information

| | |
| --- | --- |
| SKU | CDJ-LAVESPBARISTA1KG |
| EAN | 8000070038370 |
| Brand | Lavazza |
| Produced in | Italy |
| Pack size | 1 kilo |
| Coffee type | Coffeebeans |
| Intensity | Very strong (4/4) |
| Taste & aroma | Chocolate, Nuts |
| Variety | arabica & robusta |
| Suitable for | Espresso, Cappuccino |
| Country of origin | Roasted in Italy |
| Caffeine | With caffeine |