Letterbox gift - After work relaxation - 7 items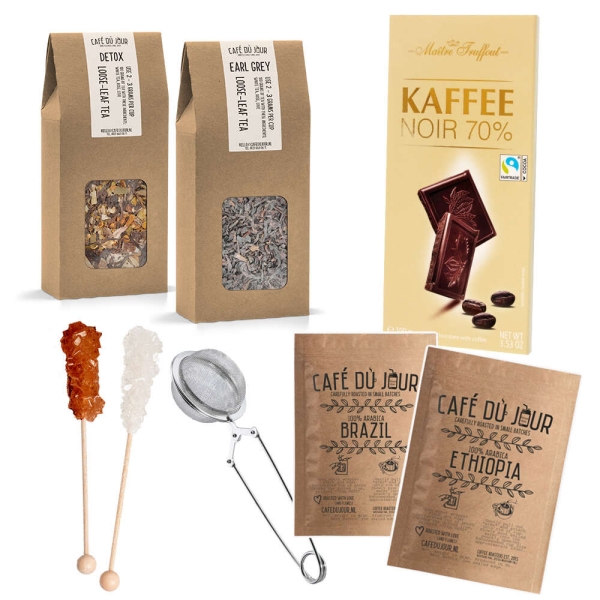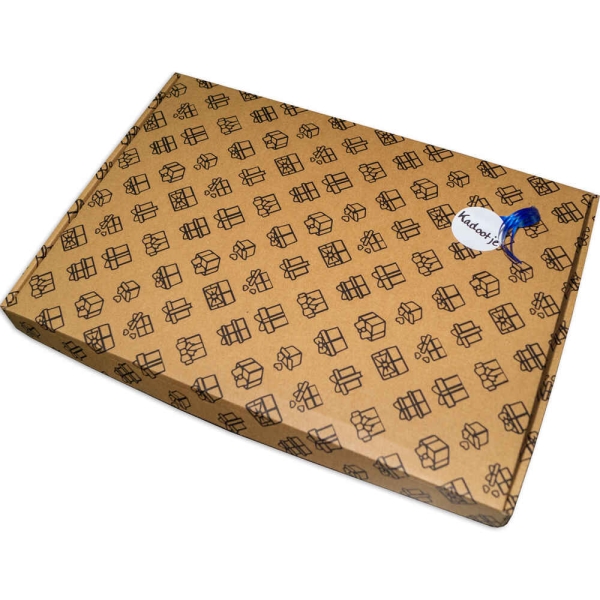 15.21 Regular Price 21.03
We all know it. You come home from a long and hard day of work and sure enough, there is nothing tasty in the house. The coffee in the tea isn't exactly what you want and there isn't anything to eat away that tough day either! But there they are again, the rescuers of Café du Jour. In this small letterbox package we all have tasty and easy snacks before a well-deserved rest moment after work. So that you can completely relax for a while and be prepared for the next challenge.
Details
The "after work relaxation" package is completely adjusted so that you have to do as little as possible for maximum relaxation time. We have therefore made the package universal for both coffee and tea lovers. The package consists of the following products;
Café du Jour - Detox - loose leaf tea:

A delicious fresh tea that is ideal for cleansing treatments and a delicious cup to relax with.
Café du Jour - Earl Gray - loose leaf tea:

The classic Earl gray is a delicious cup of black tea that is made to put you at ease and to relax.
Tea pliers mesh 45mm:

All that delicious loose tea has to go somewhere, of course, but putting everything in a tea bag now takes too long, you just want to relax quickly without hassle. Hence the handy tea pincers, just take a scoop from the bag with the tongs and hang it in your tea, you can even stir with it.
Café du Jour Single Serve drip coffee - Ethiopia & Brazil: Making coffee

after work can be just a bit too much hassle, looking for coffee, measuring water, waiting… Fortunately, we have come up with something for that. For this delicious Drip coffee you only need boiling water and you have a delicious cup of coffee.

Candy sticks:

Two delicious candy sticks to still get that sweetness you've been waiting for all day. Stir them through your coffee or tea and enjoy.
Dark chocolate 70% - with coffee:

You're right, I saved the best for last. Finally in the "after work chill" package is a delicious chocolate bar with coffee. You would eat these delicious delicacies in one go and will guarantee you peace of mind.
Do you also think you deserve this package, or do you know someone who really deserves it? Order it now and ensure your relaxing moment after work, you've earned it!
More Information

| | |
| --- | --- |
| SKU | CDJ-BGS-AFTERWORK |
| Brand | Café du Jour |
| Produced in | Netherlands |
| Caffeine | With caffeine |
Reviews