Matcha Latte - Green tea Latte Mix - Café du Jour loose tea

12.95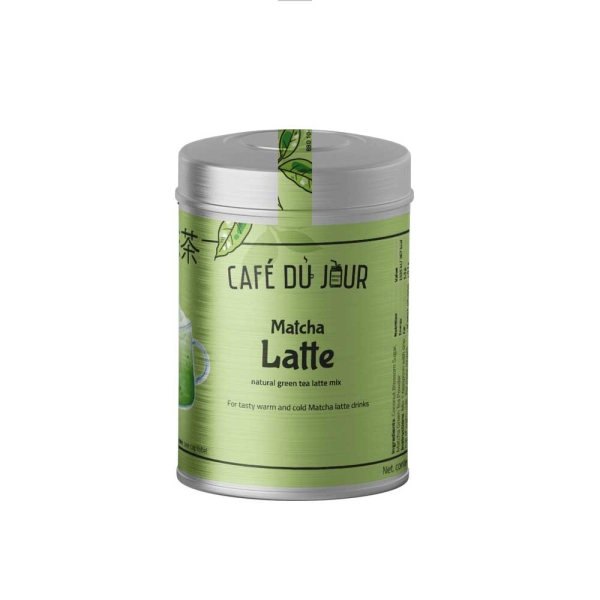 Tea - in all its varieties - brings warmth, health and a sense of hospitality to the table. The Japanese have known this for centuries and have developed a ritual called Chado-"the Way of Tea"-to celebrate the art of this ancient beverage. Central to this ritual is a very special powdered tea called Matcha. With Café du Jour Green Tea Latte Mix, you have this exceptional tea at your fingertips, for all your moments-whether informal or ceremonial.
Unlike coarse tea leaves meant to be infused into a bag or tea egg, pure Matcha leaves are ground into a fine powder. When this tea powder is whisked into hot water - as is a ritual in Chad - it dissolves completely and you get a healthy cup of tea retaining all the nutrients, antioxidants, fibre and chlorophyll from the original leaves. It's like eating the leaves right off the tree.... only less crunchy!
Since pure Matcha is a bit bitter, we couldn't resist adding some coconut blossom sugar to our mix. Combine one tablespoon of Matcha Latte powder with a cup of hot milk and you have a creamy, sweetened cup of latte with an authentic taste of green tea.
one pack contains 100 grams (good for about 20 cups)
Details
Recipe for Matcha Latte:
Take a bowl of warm milk and add 1 teaspoon (c.a. 5 g) of Matcha Latte powder. You can use cow's milk or, if you eat vegan, unsweetened almond milk. Almond milk gives a softer and creamier flavour than cow's milk. Always opt for the unsweetened version, as the Matcha Latte powder already contains sugar. Whisk the mixture for about 20 seconds with a matcha whisk (whisk vigorously). Drink it hot. Then experiment with the amount of powder to find the perfect ratio for your taste. But there are many more possibilities with our Matcha Latte powder....
Recipe for Iced Matcha Latte:
Add 1 teaspoon (approx. 5 g) of Matcha Latte powder to 50 cl of water in a bottle. Close the bottle and shake vigorously. Take a long drink glass and fill it with ice cubes. Pour the glass almost full with cold, unsweetened almond milk or soya milk. Make sure to leave enough space for the matcha latte mix. Now add the mix and stir well. Enjoy this ice-cold Iced Matcha Latte! Again, experiment with the amount of powder to adjust the flavour to your liking. Smoothies, cooking and baking with Matcha Latte! Our Matcha Latte powder is perfect for making smoothies and can even be used in cooking and baking. Whatever you make with our Matcha Latte powder, it gives a delicious green tea flavour and the coconut blossom sugar adds a warm, sweet caramel flavour.
More Information

| | |
| --- | --- |
| SKU | CDJ-VT-0070 |
| EAN | 8720598671476 |
| Brand | Café du Jour |
| Produced in | Netherlands |
| Pack size | 100 gram |
Is Matcha Latte healthy?
Matcha is high in antioxidants, potassium, vitamin A, vitamin C, iron and protein.
However, the powder also contains sugar. It is common knowledge that (too much) sugar is unhealthy. Although the coconut blossom sugar in our Matcha Latte is unrefined, contains natural minerals and has a low glycaemic index, it is still sugar.
In short, we believe that a Matcha Latte with our Matcha Latte powder is a responsible sweetener in a healthy and conscious diet.
Reviews