Starter package - Cappuccino - accessories and 2 kilos of coffee beans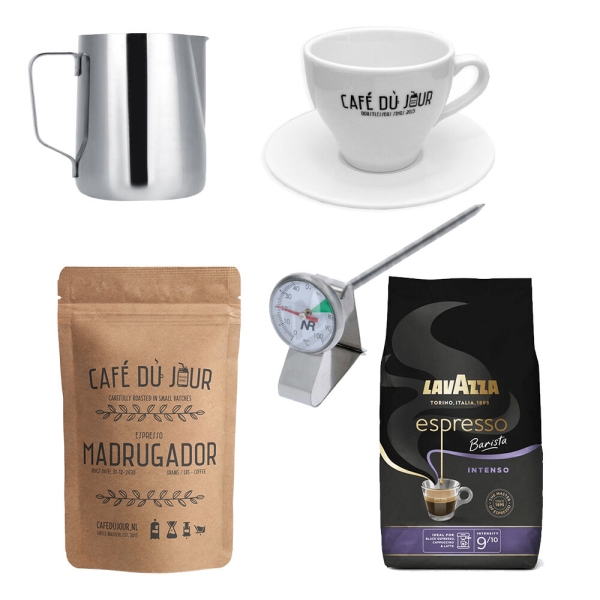 60.81 Regular Price 66.75
Everyone knows the cappuccino and everyone has one sometimes and if not then soon! The cappuccino is a delicious combination of milk and espresso for a delicious cup of motivation. In this package we have two delicious packs of coffee beans that are suitable for making a cappuccino so that you at least have the right beans. Making a cappuccino is not difficult, but it does require some skills. Fortunately, with this package you are fully equipped, just get some milk.
Details
This cappuccino package is made to let you make the best cappuccino. That can be quite a challenge. Fortunately, this package contains everything you need for a delicious cappuccino!
Café du Jour cappuccino cup and saucer:

Of course you have to drink that cappuccino in style and class, we'll take care of that!

Café du Jour Espresso Madrugador: these versatile beans make a delicious espresso that is perfect for making a cappuccino. Traditionally roasted.
Lavazza Barista Intenso:

These delicious Lavazza beans are made for multifunctional use. The intenso goes well with coffees with a lot of milk, such as cappuccino.

Milk / Cappuccino Thermometer:

A Thermometer? Yes, for the best cappuccino, your milk can be a maximum of 75 degrees. handy to keep it close by.

ILSA Stainless steel milk jug 300 ml:

The milk also has to stay somewhere. This beautiful stainless steel jug makes frothing and pouring milk easier than ever and ensures that you can make the most beautiful cappuccino art!
More Information

| | |
| --- | --- |
| SKU | CDJ-PPKT-CAPPU |
| Caffeine | With caffeine |
In short, the cappuccino package provides everything you need for the perfect cappuccino. And whether you go for a quick simple cappuccino or an elegant artificial cappuccino, it's all possible. So bring yourself or a lucky recipient the pleasure of a perfect cappuccino, made and perfected by "te stesso". (yourself)
Reviews