Café du Jour 100% arabica Dark Roast Brazil

5.95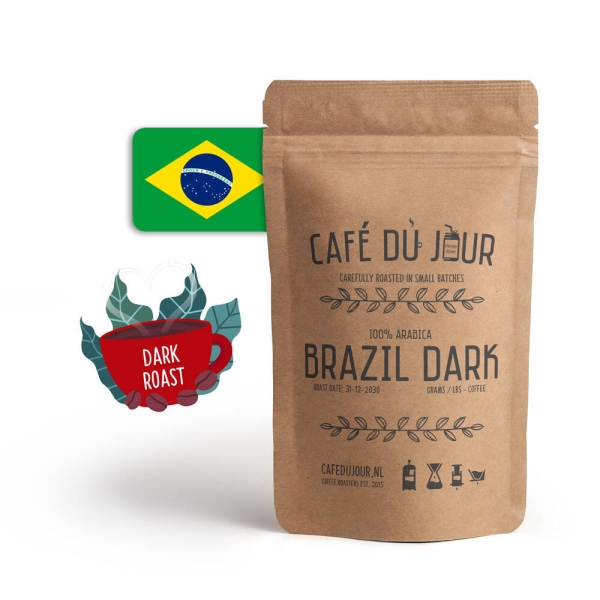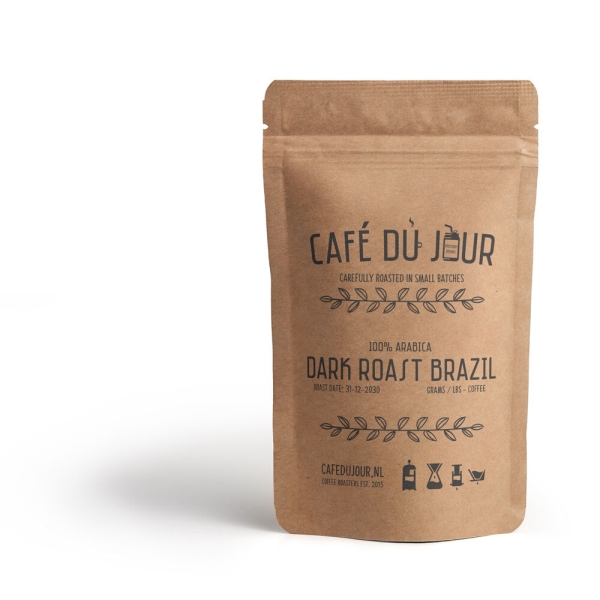 Delivery to Ireland within 5 days
All orders are shipped for € 6,95
The Café du Jour 100% arabica Brazil Dark Roast is for you - the lover of a traditional dark roast coffee flavour. A strong coffee that is easy to drink through without a burnt taste. You clearly taste the nutty flavour more often found in a high-quality Brazilian coffee
This coffee is medium-dark roasted for an intense taste experience: some oil rises to the surface of the dark brown bean but the beans are not black. The coffee has a heavier and thicker mouthfeel with notes of dark chocolate.
Rather looking for a slightly lighter-roasted version of this coffee? Then check out the regular 100% arabica Brazil coffee.
Details
Brazil produces a third of all coffee drunk in the world, making them the largest coffee-producing country in the world!
Resealable coffee packaging
Whether you buy 250g, 500g or a kilo of Café du Jour coffee beans: they always come in a special resealable packaging. The coffee bag has a special resealable rim so you can always re-pack the coffee airtight. On the front of each bag is a valve, this allows gases and air to escape from the bag without allowing air from outside to flow back into the bag. This way, we do everything possible to preserve the optimal freshness of your coffee!
Café du jour Coffee Beans
Café du Jour's own-brand coffee beans are roasted on a small scale by a specialist roaster. The beans are roasted and stocked weekly, so the roasting date is always recent. The roast date is therefore noted on the packaging label.
More Information

| | |
| --- | --- |
| SKU | CDJ-CDJBSANDARK |
| Brand | Café du Jour |
| Produced in | Netherlands |
| Coffee type | Coffeebeans, Ground coffee |
| Intensity | Very strong (4/4) |
| Taste & aroma | Chocolate, Nuts |
| Variety | 100% arabica |
| Suitable for | Espresso |
| Caffeine | With caffeine |