Café du Jour coffee of the month
5.95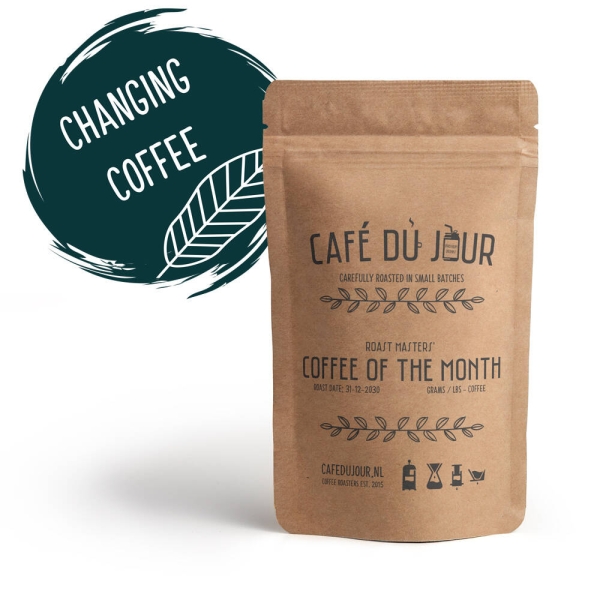 Are you undertaking? Love excitement? A little mysterious? Living on the edge?
Well we got just the thing for you. Introducing Café du Jour's coffee of the month. Every month another coffee deliverd to your home, The catch you ask? We're not telling you what the coffee is. So it's another suprise every month. Madrugador, Tanzania who knows? a Perfect fit for your coffee subscription with the risk you like. Exciting right? We can send you something regular or something exotic.
The one thing we can confirm is that it's fresh coffee from our own roastery. On the bag we will tell you everything you want to know about the taste and origin.
Details
Professionaly roasted for authentic quality and taste

Café du Jour fresh coffee is roasted and tested in small batches in professional ways. The coffee is roasted in authentic ways above a little gas fire in a little barrel. When the batch is finished the roast master let's the beans rest for several hours maximum a day. The coffee beans are tested on tast and only if everything is correct the beans are packed. The package is sealed so only gasses are able to get out and not in. The roasting date is always stated on the front of the package.
Café du jour Coffee beans
The coffee beans of Café du jour's own brand are roasted in small batches by a specialist roast master. The beans are stocked and roasted weekly, so the roasting date is always recent. The roasting date is always stated on the coffee label.
Resealable Coffee packaging.
Whether you decide to buy 250 grams, 500 grams or a kilo coffee beans the packaging will always be resealable. The coffee packaging is provided with a special resealable edge so the packaging is always closed airtight. On the front of the bag is fitted with a filter so air and other gasses can escape the bag without letting air in. This is how we make sure everything is done to save the freshness of your coffee!
More Information

| | |
| --- | --- |
| SKU | CDJ-CDJKOFFIEMAAND |
| Brand | Café du Jour |
| Country of Manufacture | Netherlands |
| Coffee type | Coffeebeans, Ground coffee |
| Intensity | Variable |
| Taste & aroma | Various |
| Cafeïne | With caffeine |