Lucaffé Tasting kit - coffee beans - 4 x 700 grams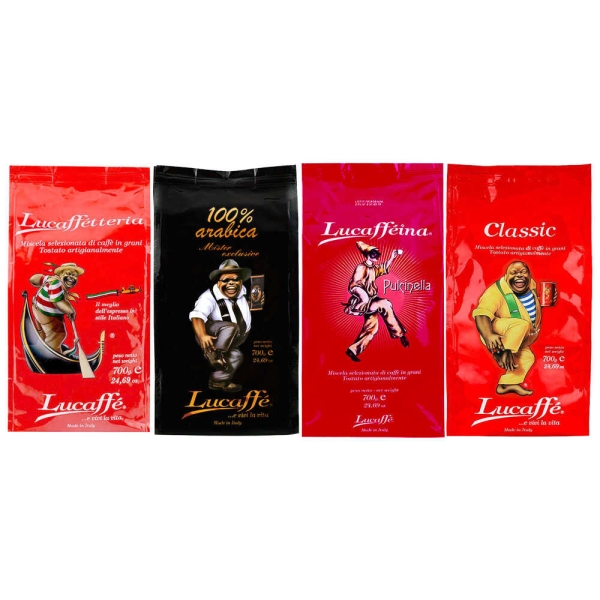 30.48 Regular Price 32.98
Lucaffe coffee beans
Lucaffe was founded at the beautiful Lake Garda in Italy. The founder Gian Luca had already spent years researching coffee and how he could perfect its flavour. He worked a lot with coffee farmers from South America and after enough research and testing, the coffee was ready for the crowds. And you could say it caught on... With the most beautiful packaging and the finest taste in Italy, Lucaffe grew from a small roastery to a global phenomenon within 20 years. Lucaffe is regarded as a true luxury coffee for the real connoisseurs. It is impossible to imagine the coffee world without them, and that is a good thing! Because we have created a new sample package for you.
Details
Lucaffe Lucaffetteria - coffee beans - 700 grams
This unique blend has been specially formulated for everyone who is a fan of the coffee from South America. A delicious crema layer combined with a delicate taste. You could say that it is only to be enjoyed on an Italian terrace, but at home with a nice chair we find it just as tasty.
Lucaffe Pulcinella - coffee beans - 700 g
The Italian energy drink made by Lucaffe. This delicious blend of Arabica and Robusta beans is given an extra dose of caffeine to keep you going on that heavy workday. This power coffee is the result of a cross between two plants which together provide extra caffeine without making the coffee excessively strong
Lucaffe Classic - coffee beans - 700 grams
The name "classic" already implies that this is the original Lucaffe coffee as it conquered the world. With a blend of 80% Arabica and 20% Robusta, it is made for a great espresso, but can also transform itself into a delicious cappuccino. Lucaffe classic has already convinced the world, now you have to convince yourself!
Lucaffe 100% arabica mister exclusive - coffee beans - 700 grams
This 100% Arabica is a real delicacy, if you really want to surprise your guests, this is the perfect coffee. The 100% Arabica blend provides a medium intensity with nutty notes. With this coffee you can hardly go wrong, only if your guests don't like coffee, but who doesn't like coffee?

More Information

| | |
| --- | --- |
| SKU | CDJ-LUCAFFE-4X700 |
| Brand | Lucaffé |
| Produced in | Italy |
| Coffee type | Coffeebeans |
| Caffeine | With caffeine |
Reviews